Logout

Loading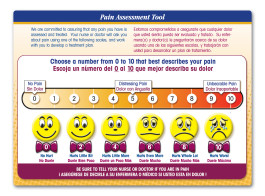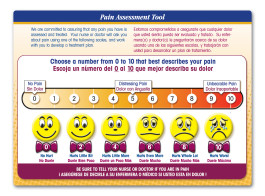 Pain Assessment Tool, Pain Scale, Pain Gauge, Wong Baker Scale, Wong Baker Pain Scale, Wong Baker Pain Tool, FLACC Scale, FLACC Pain Scale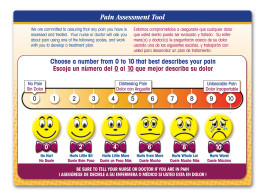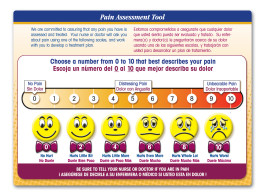 Introducing the Digital Edition of our Patient Care Central Catalog


Trusted SSL Certificate


The Joint Commission® requires that patient pain be assessed and reassesed in an ongoing manner. Our pain tools are the best way to measure, communication, and document patient pain levels.

With our tools, your patients will be able to communicate their level of pain by referring to the measurement gauge (adults) or descriptive faces (perfect for children or the cognitively impaired). Our Pain Assessment Tool, Badige™ Card and Pocket-Guide to Pain Assessment all include the FLAAC Scale, a behavior pain assessment scale that is used to evaluate pain in non-verbal patients.

Friendly and inviting design that is easily understood by patients of all ages and cultures
English/Spanish translation (Pain Assessment Tool & Pocket-Guide to Pain Assessment)
Full color printing with thick glossy lamination and rounded safety corners
FLACC Scale (Pain Assessment Tool, Badgie™ Card, and Pocket-Guide to Pain Assessment)
2 Storage Options: Acrylic Wall Frame for the Pain Assessment Tool and a Pear Clip for the Pocket-Guide to Pain Assessment.




Visual Pain Tool with Acrylic Wall Holder

Visual Pain Tool
Badgie™ Card


Visual Pain Tool
Pocket-Guide

Visual Pain Tool
Wall Poster




Engage the most important person on your team—the patient. Let patients know that "It's OK to Ask" about the effectiveness of their pain management, while meeting two Joint Commission® standards: pain management and engaging patients and families in their care.



OUR PRIVACY POLICY: We won't share your personal or business information with anyone - for any reason - ever!

© 2014 Healthcare Inspirations. All rights reserved. Pocket-Guide Series, Pocket-Guide to Pain Assessment, HealthTex, Badgie Cards. Peek-a-Boo, Comfort-Flex, and "I Wash Because I Care", "Clean Because I Care", "I Got My Flu Shot, Did You?", "Get Smart About Flu!", "Patient Safety 1st", "It's OK to Ask!", "Patient Safety Starts with Me!/Us!", "Clean Hands Can Stop MRSA", "Taking Caring to Heart", are trademarks of Healthcare Inspirations. Company and product names used throughout this site are trademarks of their respective companies. Although every effort has been made to make this website accurate - we cannot be responsible for errors in price or content. Products and prices are subject to change at anytime and are subject to prior sale. Healthcare inspirations is not affiliated with the Joint Commission®, which owns the Joint Commission trademark.